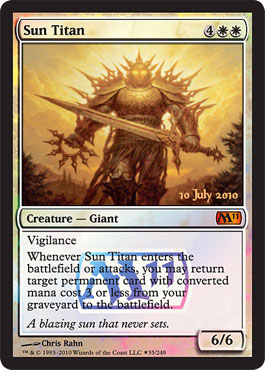 Magic The Gathering M11 set

Prerelease

is this Saturday, July 10th.
Sign-up anytime between now and Saturday at 1:00pm.
Packs will be handed out at 1:00pm for deck building. The first 24 people to sign up get the above card. The card will be handed out with their packs on Saturday!
"...Happily for us all, Prereleases are fun events, where there is plenty of room to screw up, learn from your screw up, and get better. Often more experienced players will help out newer players building their decks, which can be adjusted between games and matches. Frequently you see experienced players even helping out in game decisions..."
Tim Willoughby


And do not forget, Next week is the release weekend tournament as well!